Pool Removal, Design & CONSTRUCTION in ENCINITAS
Professional Pool Construction in Encinitas
We take pride in offering custom pool design, pool construction, and pool removal services in Encinitas, California. As a family-owned business with over 30 years of experience, we have the expertise to turn your dream pool into a reality!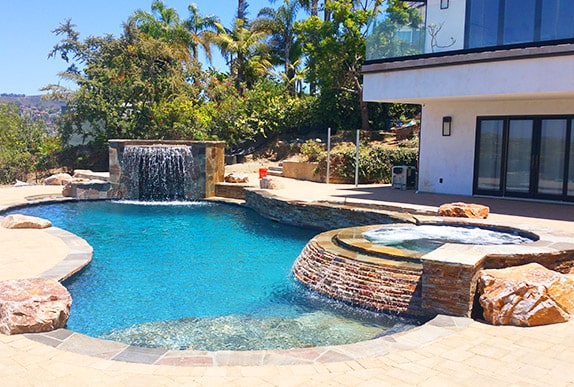 Our seamless process starts with the initial design and carries through to the completed construction. We are skilled in designing and building various popular pool types in Encinitas, including lagoon style pools, infinity pools, pools with waterfalls and custom rock features, and luxurious modern-style pools.
Once our team has your dream pool design in hand, we get to work. We are dedicated to customizing the pool to your unique needs and property, whether you desire a modern resort feel or a tropical paradise oasis. No project is too big for us to handle, and our team will be with you every step of the way.
Our pool services in Encinitas include:


Pool EXCAVATION & Demolition

At Extreme Swimming Pools, we are dedicated to making the process of building your dream pool a pleasant and stress-free experience. With our innovative designs, top-quality construction, and exceptional service, we are your trusted pool partner. Let us turn your dreams into a reality!



Encinitas is a vibrant coastal city known for its laid-back, beach town atmosphere and rich cultural heritage. With its picturesque beaches, quaint neighborhoods, and thriving local arts scene, Encinitas is a popular destination for both tourists and residents alike. The city is divided into several distinct areas, including Old Encinitas, Cardiff-by-the-Sea, Leucadia, and New Encinitas, each with its own unique charm.
One of the main draws of Encinitas is its beautiful coastline, which boasts some of Southern California's most iconic beaches – including Moonlight Beach, Swami's Beach, and Cardiff State Beach. These beaches offer a variety of recreational activities, from surfing and swimming to beach volleyball and picnicking, making Encinitas a haven for outdoor enthusiasts. The city is also known for its thriving local arts scene, with numerous art galleries, studios, and cultural events throughout the year.
Whether strolling along the historic Coast Highway 101, exploring the beautiful beaches, or immersing yourself in the local arts and culture, Encinitas offers a unique and vibrant coastal experience.
Ready to get started on your dream pool in Encinitas?
Contact us today for a free consultation!